Recruiters and hiring managers often feel about each other the way the Fresh Prince feels about parents: They just don't understand. And while it's tempting to say as much (or rap about it with DJ Jazzy Jeff), trying to communicate one's frustration calmly is easier said than done. All too often, what you want to say isn't what you should say if you hope to have any sort of productive conversation.
Consider the following five sentences, and note the differences between what recruiters wish they could say to hiring managers and what they should say instead, in effort to have more productive conversations (and fewer Real Housewives-style throw downs).
What recruiters wish they could say: "Your expectations are unrealistic." 
What they should say: "Let's look at the data and set goals around that." Time is often of the essence when trying to fill a position, but there's only so much you, as a recruiter, can do when the candidates just aren't there. Work with hiring managers to set realistic expectations regarding time-to-fill, and come prepared with labor market data (CareerBuilder's Supply & Demand Portal is an excellent resource), which provides insight into how long it may take to fill a certain position. The same goes for discussing compensation. Be prepared to show your hiring managers the most competitive compensation rates and work with them to either adjust their salary offers or find ways to compensate.
What recruiters wish they could say: "I can't read your mind."
What they should say: "Help me understand the position better." Short on time, hiring managers are often also short on details when it comes telling recruiters what they're looking for in terms of candidates. "Get on the phone for five minutes with the hiring manager so you can learn more about the position," advises Erik Kelley, account executive with CareerBuilder's Staffing and Recruiting Group, who has worked as both a hiring manager and a recruiter. Even better? Sit down and have a conversation in person. The more time you invest up front to understand the position and build a relationship with your hiring manager, the more time you'll save later with back-and-forth.
What recruiters wish they could say: "You have no idea what it's like!"
What they should say: "Let me explain how my process works." Many hiring managers don't realize the many steps recruiters go through during the recruitment process. "As a recruiter, in order for me to get paid, I need to go through about 10 different steps – get a meeting with a client, get a rec, find a candidate, interview them, submit them for a formal interview, etc. – and at any point in time, if any one of those things go wrong, I lose out," says Kelley. Explain your process to hiring managers in order to help them understand where you are coming from and manage their expectations properly.
What recruiters wish they could say: "What is your problem?"

What you should say: "Be honest with me. What can I do better?"  Whether in effort to spare your feelings or simply because they're just too busy, hiring managers won't always be up front with recruiters as to if and why they aren't satisfied. If you feel as though you're not meeting the hiring manager's expectations, ask them what you can do to improve.
What recruiters wish they could say: "What is taking so long?"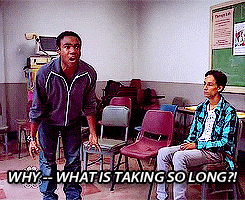 What they should say: "Let's set some deadlines." Recruiters often get a bad rap for being slow to respond to clients, but hiring managers can be just as guilty. Not only does giving recruiters the silent treatment wastes their time, it can also cause hiring managers to lose their chances with in-demand candidates. "Hiring managers need to understand that they're going to lose candidates if they're not more responsive," Kelly says. He advises recruiters to be up front with hiring managers and emphasize the need to act quickly. "Give the hiring manager an exact dealing to respond, at which point, you'll start submitting the candidate to other clients."
Recruiters, what are your thoughts? Anything to add?
Hiring managers, now it's time for you to weigh in: What are some things you wish you could say to recruiters?
Forget what you think you know about HR... it's all about to change.
Sign up to start getting exclusive content designed to empower you with the insight necessary to go from HR professional to strategic business partner.