As glamorous as Hollywood appears, it's no escape from the reality of subtle or blatant sexism in the workplace. The differences in the treatment of women versus men by the media is nothing new. Entertainment reporters ask men about their movies and women about their hair and makeup and gowns. They ask men about their movies and women about work-life balance. They ask men about their movies and women about dieting.
Check out this assortment of examples of sexism to get a feel for what many women have to put up with on an ongoing basis.
But perhaps one of the most bad-ass responses I've heard so far is that of Marta Kauffman, showrunner of my favorite TV sitcom in the world, "Friends." She recalls one of the heads of the network acting less-than-graciously to a scene when Monica, one of the lead characters, slept with someone on the first date. You can read the full encounter here.
This was apparently one of numerous instances of what Kauffman described as misogynistic behavior perpetrated by the executive. As The Huffington Post quotes her from a recent panel:
"He was a little hurt by something I said once," she remembered. "So, I sent him a basket of pantyhose, tampons, lip stick and nail polish."
Sexism: 0. Kauffman: 1.
You'll be interested to read this gem from our archives: How the Emmys Reinforced Workplace Gender Stereotypes
This type of double standard is actually commonplace in entertainment circles. Just take a look at some of the ridiculous questions successful professional women get asked — on the red carpet, in interviews, online, and elsewhere — while their male counterparts are asked to tackle the more cerebral questions about their work and what inspires them.
Mindy Kaling, creator and star of my other favorite comedy show The Mindy Project, recently tweeted her frustration:
Reporters ask ders/Blake/Adam, rob/Charlie/Glenn, Louie If they get overwhelmed by acting & writing & if they ever doubt themselves, right?

— Mindy Kaling (@mindykaling) June 5, 2015
Kaling is not afraid to point out blatantly unfair questions directed at her solely because of her race/ethnicity/gender.
And that's why we love her even more.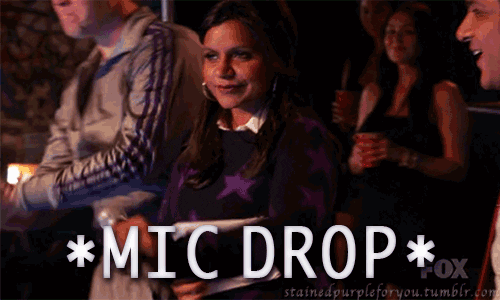 Tell us in the comments below or tweet at @CBforEmployers: Have you had to deal with any form of sexism in the workplace? How did you handle it, and what advice would you give to other women?