It looks like most employers are choosing nice over naughty when it comes to thanking their employees this holiday season. According to a new CareerBuilder survey, more employers plan to offer holiday perks in the form of parties, bonuses and gifts this year than in years' past.
Rewarding Employees with Revelry

A holiday party is a common way for companies to celebrate the end of the year, but over the past few years, many employers have cut back to save money. The good news is 66 percent of employers surveyed say they plan to throw company holiday parties this season, up from 63 percent in 2014 and 59 percent in 2013.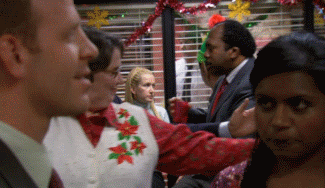 The not so good news? Employees may be attending these festivities begrudgingly – if at all. Just 38 percent of workers say they plan to attend the office holiday party. The overwhelming majority (93 percent) say they would favor a "thank you" in the form of a holiday bonus or time off, while only 1 percent prefer a party and 6 percent have no preference.
Doling out the Dollar Bills

Workers wishing for more money in their pockets are in luck: More than half of employers (54 percent) plan to give employees a holiday bonus this year, up from 47 percent in 2014. And some of those bonuses may be bigger than expected: 14 percent of employers say they will give a larger bonus than last year.
Giving the Gift of … Duct Tape?
Many employers also plan to show their appreciation for their employees' hard work with presents. Forty-five percent of employers will give employees gifts this year – up from 40 percent in 2014 – and 47 percent will give charitable donations.
Employees are planning to get in on the gift giving action as well: 21 percent of workers say they intend to buy holiday gifts for co-workers (the same proportion as last year), and nearly the same amount (20 percent) plan to buy a gift for the boss.
While most workers usually stick to more traditional holiday presents, others like to grab things from their junk drawer on the way to work get a little more creative with their definition of the word "gift." Some actual gifts workers have received include:
A squirrel toilet seat decal.
A pair of Christmas socks that look like elf feet.
A roll of duct tape.
A bell on a string.
A mystery bag with a coat in it.
A giant heart shaped box of candy … from Valentine's Day.
A picture of a bear.
A bowling ball.
Homemade sausages.
A ceramic sheep you can dress up seasonally.
What are you doing to reward your employees this holiday season? Let us know in the comments!