It's that time of year: People picking out the perfect card to express what the human heart cannot put into words; packing cupid-shaped PB&J sandwiches for that certain sweetie, and nervously squirming in their seats, palms sweaty, waiting to plunge into that bag of notes and suckers and candy "Tweet Me" hearts to see if their crush wrote them a special Valentine's Day message.
That's right, I'm talking about good old fashioned love in today's workplace–and according to a new CareerBuilder survey, there's a whole lot of love to go around. Let's take a look:
Who's the Boss? Sometimes, Your Soulmate
The survey among 7,780 U.S. workers found that while the majority of relationships blossomed between workers in similar job levels, 28 percent of workers who dated a co-worker said they've dated someone who's at least a rung above them on the ol' corporate ladder, and 18 percent of workers admitted to dating their boss.
In comparing the sometimes mystifying differences of the female and male species, it was discovered that women were more likely to date someone higher up in their organization: 35 percent of women said they had done so, compared to only 23 percent of men.
An Extra Dose of Hospitality
Hospitality leads the top five industries for office romances, coming in significantly higher than the national average. Here's the breakdown:
Hospitality – 47 percent dated a co-worker
Financial Services – 45 percent
Transportation & Utilities – 43 percent
Information Technology – 40 percent
Health Care – 38 percent
Real-Life Romantic Comedies
The premise of movies like "Maid in Manhattan," "The Proposal," and Notting Hill" aren't as based in fantasy as you might think–though (spoiler alert) the endings may be. It turns out 26 percent of workers reported that what someone does for a living influences whether they would date that person. Unfortunately for you lovers of happily-ever-after endings, 5 percent of workers said someone broke up with them because either their job required too many hours at the office, they didn't make enough money or the person didn't like their line of work.
And to shatter your Hollywood dreams even more, while the majority of workers tend to date people in different professions or functions, 19 percent reported that they are more attracted to people who have a similar job.
Even Happier Hours
Chance run-ins and social settings outside of the office (like happy hours) were cited as the most popular places for workers to make eyes at each other and fall truly, madly, deeply in love. Running into each other outside of work (13 percent), happy hours (12 percent), lunches (11 percent) and late nights at work (10 percent) were among the most popular catalysts for turning "late-night deadline" into "late night at the movies."
To Tell or Not to Tell?
Most workers who have had office romances said they were actually open about their dating situation, though 37 percent reported they had to keep the relationship under wraps.
Rosemary Haefner, vice president of human resources at CareerBuilder and resident office romance expert has some sage advice for all those co-workers making googly eyes at each other across the boardroom:
"Whether you're dating someone higher-up or a colleague at the same level, office romances are always tricky. First and foremost, it is important to know your company's office dating policy. Remember to stay professional and draw a boundary line between your personal life and the workplace."
Get all the intimate details about romance in the workplace today: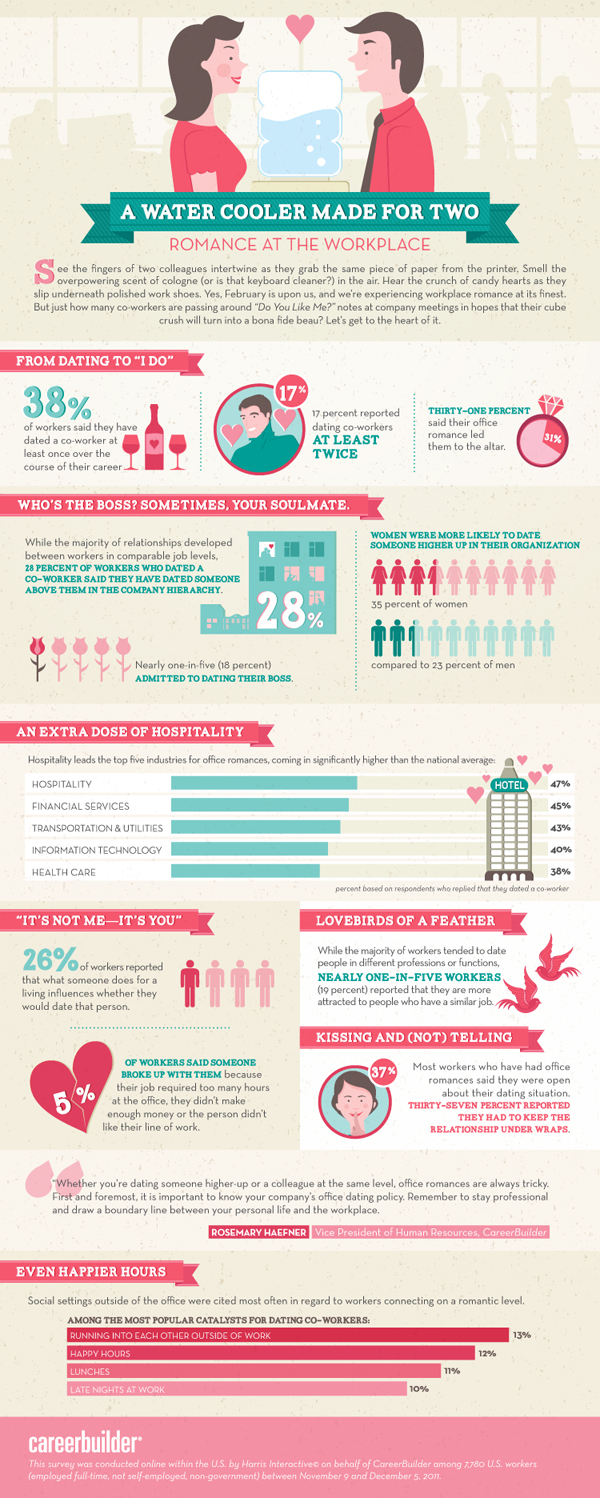 Have you dated someone at the workplace? Does your organization reject it, accept it, or go so far as to encourage it? Let us know in the comments.